Why are rain gutters so important?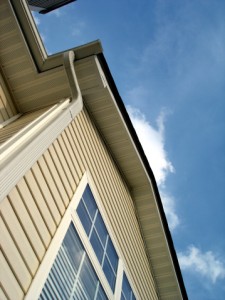 Rain gutters are used to direct water away from your house. Water that does not properly dispel from the roof and fall alongside your home's exterior can potentially cause structural and other problematic nuisances that must be attended to. Rain gutters help keep water away from basements, walks and patios and deter mud, sand and water from splashing onto your siding, windows and doors. This helps to keep the exterior of your home clean. By protecting your home from water they also protect the color from fading.
If your home has brick or concrete, this is a very important aspect. You can also count on gutters to protect wood decks, doors and garage doors from excessive water damage. Having a working gutter system installed will help you to prolong the life and structure of your home by keeping water and other damaging properties away from areas that they may harm.
DVC Roofing provides installation, repair and replacement of your Gutters.
We repair and install:

Standard Gutters
Seamless Gutters
Copper Rain Chains
Gutter Guard
Point 032 Aluminum Gutters 5k/6k
Seamless Half Round Gutter
Copper Gutter
We offer a range of gutter installation from 5K-6K style gutter, half round gutter, built in gutters, copper and aluminum gutters.